Convert PDF to Word
Cannot edit or type a word in the read-only PDF file, or extract several images from restricted PDF documents, even cannot copy some text from an uneditable PDF? Don't worry about that. PDF to Word Free provides the most convenient solution to help you convert PDF to Word without any modification on the source files, saving you much time and effort of retyping text. Now, the converted text can be easily searched, archived, repurposed and managed.
Convert PDF to TXT
PDF to Word Free also works as a free PDF to TXT converter tool that allows converting PDF to TXT, if you don't need to keep tables and images from original PDF files. This free text extractor extracts the text content of a textual PDF and saves the text as a plain text file quickly. This feature is quite useful for archiving and indexing PDF files. It is perfect for resume submissions, or as a backup to an email attachment, ensuring anyone can read your file!
Define Page Range
This free PDF to Word converter empowers you to totally control over page range to define which pages to be converted. You can convert the exact page(s) by inputting self-defined page numbers or page ranges, or just convert all pages or current page. You can convert the exact page(s) to image or plain text by inputting self-defined page numbers or page ranges, or just convert all pages or current page.
Free, Safe & No Adobe Acrobat Needed and More
PDF to Word Free is 100% free, safe & easy to use without Adobe Acrobat Reader or any other third party software. This free PDF to Word converter provides a rich PDF viewer to open, view, print any PDF files and even add some metadata like title, author, subject, etc. to your PDF files. The PDF password management tools help remove or add password of PDF files & apply digital signature thus you can copy, print and modify the content or protect it.
What benefits can I expect?
New Tech Integrated
There are tons of new technologies coming out all the time - the experts of our development department are making their efforts every day to focus on what's new in our field so that they can integrate them into our software, connecting you and the top-notch techs.
Intuitive UI & Features
Simplifying software is a must for mass user coverage and we are always trying our best to make UI and features as easy as possible so that people with different levels of computer skills will not have hassle using them.
Free & Safe
Downloading and using our software is completely free without registration or extra installation - we don't even ask for your email! If it is safety that you seek, then our software is just the choice, coming with no bloatware, adware, spyware and any other malware.
Ongoing Support
We provide step-by-step tutorials that can teach you how to use our software. More than that, you can contact us if you have any questions about our applications, website or service. There are always more behind the products.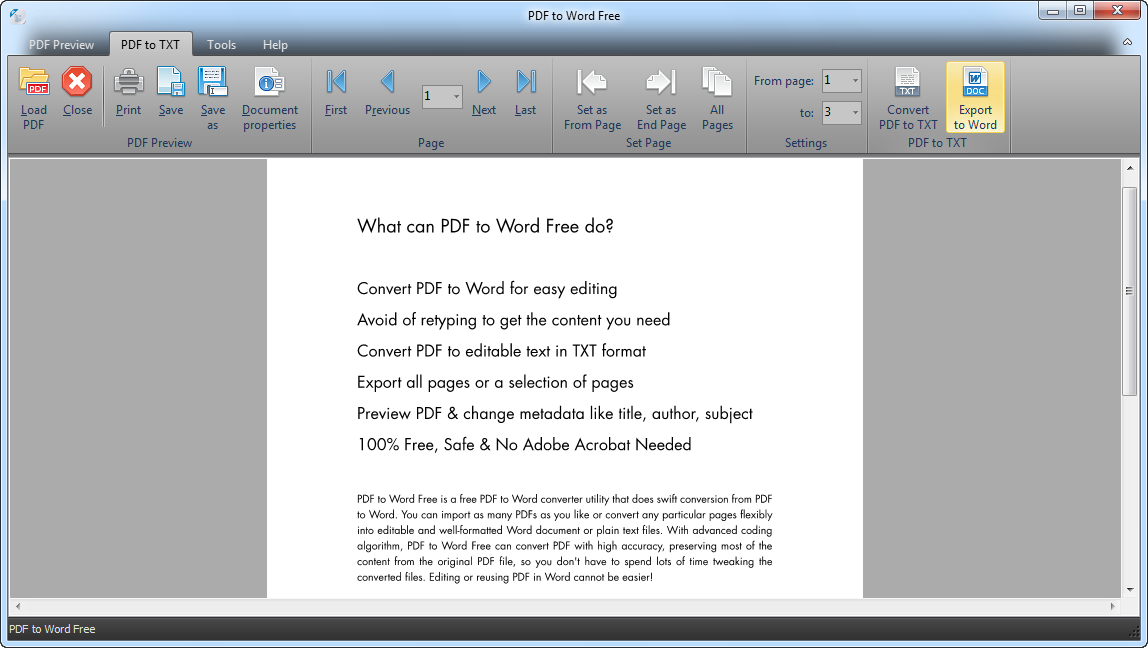 Convert PDF to Word & TXT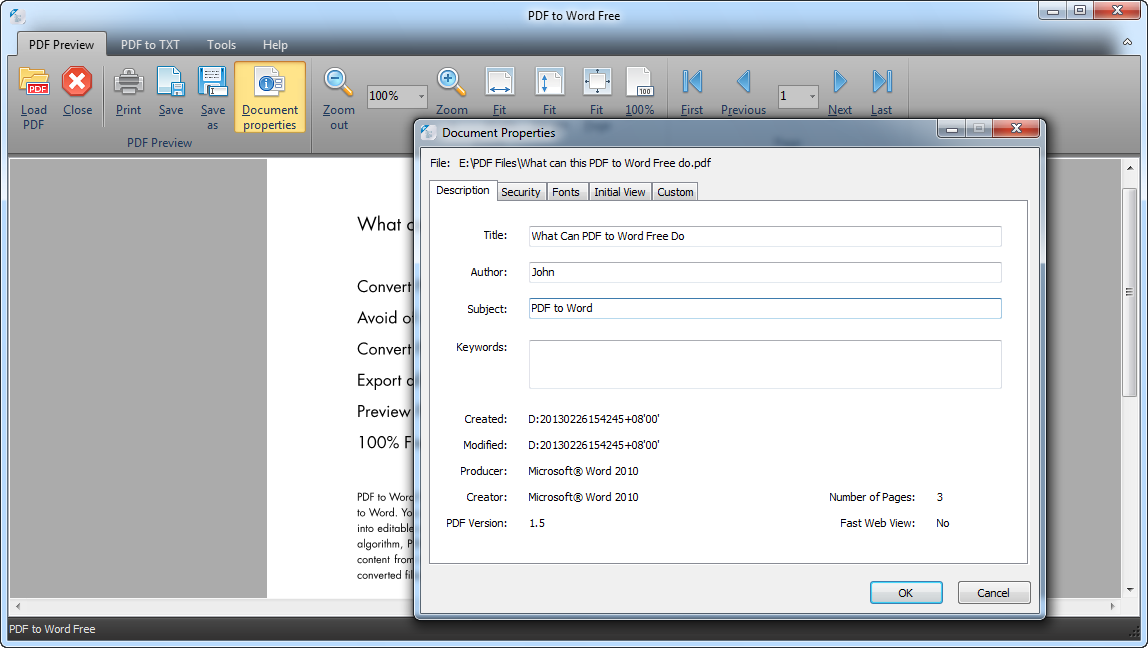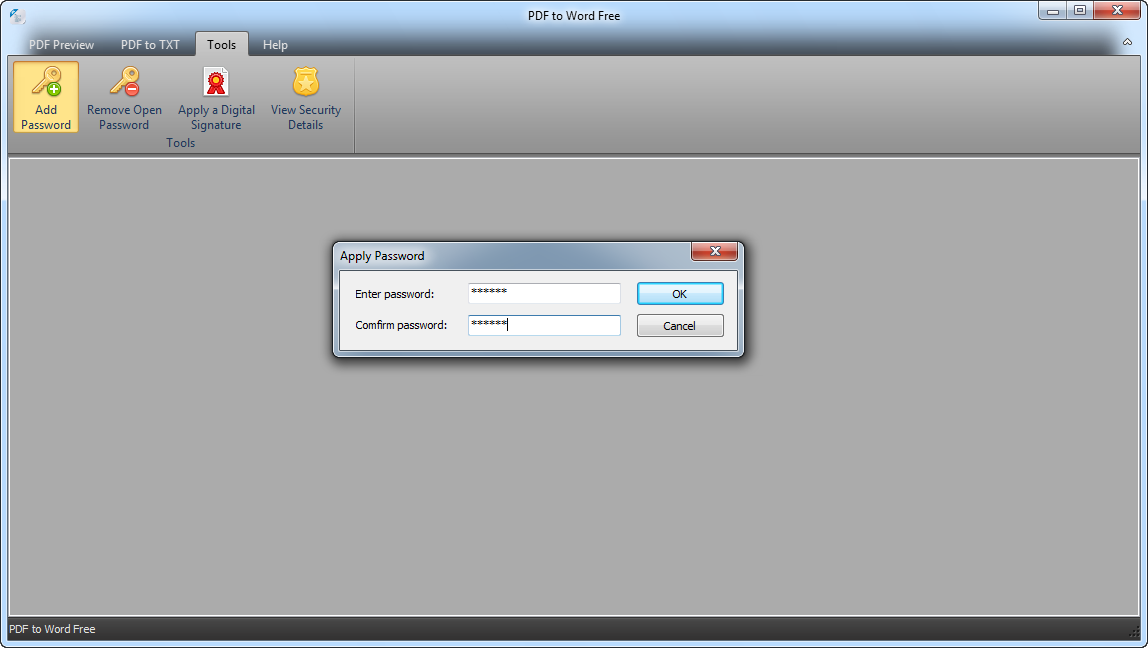 Add password & Digital Signature
Awards
A clean and easy-to-use interface with clear functions is what we get at first glance. During the testing, PDF to Word Free can accurately convert PDF to Word document and TXT text format file with super-fast speed and excellent quality

With PDF to Word Free you can easily convert any PDF file to the Word format (DOC), which is easier for you to handle and edit. The conversion process is surprisingly quick, and the resulting document is an exact copy of the original PDF file

After evaluating the available options, it quickly became clear that we would give PDF to Word Free a high rating. It meets the needs for an affordable and flexible solution. Its comprehensive set of features is impressive

The inbuilt PDF Preview is a good alternative to Adobe's PDF Reader. It is free of bloatware and provides a number of features that other PDF readers do not offer. Basically, this utility can function in a very fast and simplistic manner - load and click Convert
Testimonials
I use PDF to Word Free every day to attach important documents to emails. It makes it easier for everyone to be able to open a PDF file and not have to think about a Mac or PC, none of that irritating stuff. Look forward to any software PDF to Word Free comes up with. I could not have done most of my work without it! Thanks a lot. You guys are great

Pleased with the quality, the speed and the operation. The tool has provided a new life for my work and the low price is very good - many other PDF products cost too much. Thanks to PDF to Word Free, I never need to retype the text in PDF files any more

Well done! It is a great product and used easily. It makes my work very effective and I like it very much! Hope much more people know the product

The converter can convert PDF to TXT, which makes my study convenient and efficient. I can get the text from PDF files extracted for further editing
Download PDF to Word Free
100% Free PDF to Word Converter. Safe & Efficient.
PDF to Word Free is 100% safe and comes with an uninstaller to help remove it from your PC in case you don't want it no more.
Download PDF to Word Free
How to Convert PDF to Word?
As we know, PDF is a good file format for sharing and exchanging documents, text formatting can be preserved exactly like a paper book when reading. However, you will find it is not easy to edit PDF text, while there are occasions you need to reuse PDF content. Fortunately, you can find an alternative way - convert PDF to Word for editing use PDF to Word Free. Now, This free PDF to Word converter can operate PDF to Word conversion without hassle.
Learn more
How to Convert PDF to TXT?
PDF to Word Free is small but powerful software that enables you to convert PDF to TXT (.txt) files without relying on third-party program such as Adobe Reader or Acrobat. If you want to eliminate some excess PDF elements and stretch your content beyond its original purpose, simply extract the textual content using this free PDF to Text converter - PDF to Word Free.
Learn more
Who Are We?
DocJoy, founded in 2005, focuses on developing productivity software products based around PDF and office documents. We will try our best to develop more document creation, conversion, and extraction solutions that are used to automate a wide variety of manual processes, saving time, increasing productivity and profitability.
Customer Focus
DocJoy is interested in creating lifelong satisfied customers. Our experienced developer team will thrive by offering easy-to-use, powerful and affordable products, which enhance your productivity when dealing with electronic documents in your daily work and study. Our goal is to provide first-class products and excellent service & technical support to our customers.
Location Map
Location
8 Grey St, Deakin ACT, 2600
(02) 6273 5891